The UK government has announced £100 million of funding support for the continuing development of EDF's proposed Sizewell C new build project in Somerset.
The funding is effectively a convertible loan, intended to help EDF attract further financing from private investors and, subject to approvals, the UK government.
The government has committed to reaching a final investment decision (FID) on at least one gigawatt-scale nuclear power station during this parliament, as part of plans to maintain the national capacity to produce continuous low-carbon electricity at scale, reducing emissions and increasing energy security.
"New nuclear is not only an important part of our plans to ensure greater energy independence, but to create high-quality jobs and drive economic growth," said business and energy secretary Kwasi Kwarteng. "The funding announced today will further support the development of Sizewell C during this important phase of negotiations as we seek to maximise investor confidence in this nationally significant project."
The £100 million option fee will be invested by EDF to help bring the Sizewell C project to maturity, attract investors, and advance to the next phase in negotiations.
In return, the government will take certain rights over the land of the Sizewell C site and EDF's shares in the Sizewell C company, providing opportunities to continue to develop nuclear or alternative low carbon energy infrastructure on the site should the project not be successful.
"We're very pleased that the government is showing its confidence in Sizewell C which, if approved, will lower energy costs for consumers and help to insulate the UK from global gas prices," said Simone Rossi, CEO of EDF Energy. "Together with our own investment, these funds will allow us to continue to move the project towards a financial investment decision."
EDF says that Sizewell C will support 70,000 jobs across the UK and rely on over 3,000 UK-based suppliers, and contribute around £4 billion to the regional economy.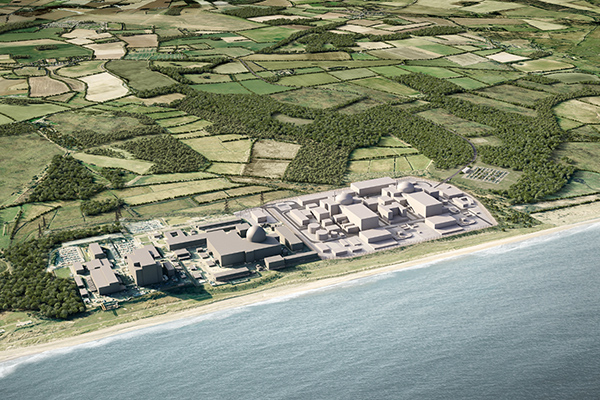 If Sizewell C reaches a positive FID, the government will be reimbursed the £100 million fee with a financing return, either in the form of either cash or an equity stake in the project.
If not, the government will ask for either Sizewell C company shares or the Sizewell C site to use for other nuclear or low-carbon projects. If EDF is unable to provide these assets as requested, the money will be refunded by EDF with a financing return.
EDF is proposing to build two 1.6GWe EPRs at Sizewell C, replicating its current new build project at Hinkley Point C. In 2015, EDF announced an agreement with Chinese nuclear group CGN to take a 20 per cent stake in the project, but this is likely to be reviewed.
EDF has said that it plans to build Sizewell C around five years behind Hinkley Point C, and submitted its formal planning application in May 2020. The government announced in December 2020 that it was entering negotiations with EDF, with the aim of a final investment decision by 2024.
In a ministerial statement, Kwarteng said that decisions on  Sizewell C will be dependent on decisions in respect of planning and designation under the Nuclear Energy (Financing) Bill, which is currently going through Parliament. The bill will enable a regulated asset base (RAB) funding model framework for new nuclear projects, which could lower project cost by more than £30 billion, compared to the contracts for difference model used for Hinkley Point C. The RAB model would add a levy to household energy bills to cover construction costs, transferring risk from the developer to the public.