Rolls-Royce SMR has announced a shortlist of potential locations for its first factory, to create heavy pressure vessels for its small modular reactor power stations.
The factory will be the largest and most complex of the company's three proposed factories, and will create more than 200 jobs at the winning location. Construction will begin once Rolls-Royce SMR receives the go-ahead to build a fleet of SMRs in the UK.
The shortlisted sites, all in the north of England and north Wales, are:
IAMP, Sunderland
Forrest Park, Newton Aycliffe
Catterick, North Yorkshire
Ferrybridge, West Yorkshire
Gateway, Deeside
Pioneer Park, Grimsby
Kingmoor Park, Carlisle
The sites was selected against a clear set of criteria, picked from over 100 submissions from Local Enterprise Partnerships (LEPs) and development agencies. All submitted locations will also be considered as potential sites for Rolls-Royce SMR's other two factories – one will manufacture civils modules, while the other will focus on mechanical, electrical and plumbing modules.
"I would like to thank everyone who sent in a submission suggesting locations in their region for the first Rolls-Royce SMR factory," said Tom Samson, chief executive of Rolls-Royce SMR. "The response was fantastic and shows the ambition and appetite of the UK to build and operate a fleet of SMRs which will provide affordable, low-carbon electricity for generations to come. The final location will come from the shortlist and will result in significant investment, long-term high-skilled jobs and will support the UK government's aspirations for levelling-up."
The heavy pressure vessel factory will be around 23,000 square metres in size and create more than 200 permanent jobs, with a projected value of £100–200 million to the host region.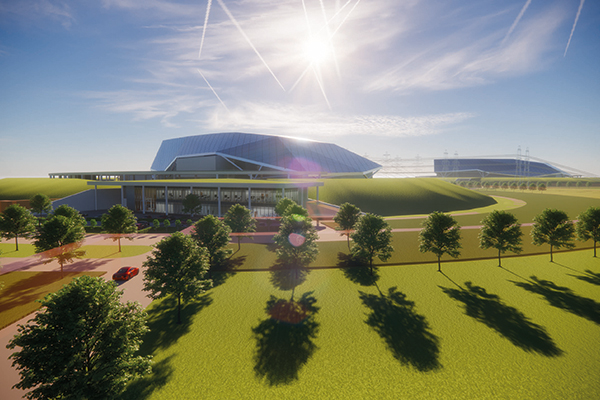 The Nuclear AMRC is working with Rolls-Royce SMR on pre-production development of the manufacturing processes which will be deployed in the factory.
Following initial process development, the centre will work with partners to produce two advanced manufacturing prototypes – one will be a representative-scaled heavy pressure vessel, of around six metre length, 2.5 metre diameter, and 27 tonne mass. The other will be a full-scale vessel closure head, of around 4.5 metre diameter and 40 tonne mass. Both will be produced from forgings to be provided by Sheffield Forgemasters, and fully welded and clad to nuclear quality standards.
Rolls-Royce SMR also recently announced that it is establishing a head office in central Manchester.