Westinghouse has confirmed plans to build three AP1000 reactors at the Moorside site near Sellafield.
The announcement came as Toshiba, majority owner of Westinghouse, confirmed that it is acquiring 60% of NuGen, one of three development groups planning new build nuclear power in the UK.
NuGen plans to build up to 3.6GWe of new nuclear capacity at its site in West Cumbria. The group was originally founded as a joint venture between GDF Suez, Iberdrola and UK-based SSE. SSE withdrew from the venture in 2011, and Iberdrola announced that it would sell its stake to Toshiba in December 2013.
Toshiba has now announced that it is acquiring all of Iberdrola's 50% stake plus 10% currently held by GDF Suez, for a provisional price of £102 million. The deal is expected to complete within the first half of the year.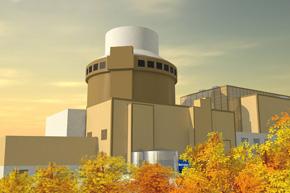 Toshiba intends to move forwards with the construction of three AP1000 reactors in partnership with GDF Suez as operator, with the first unit expected to be online in 2024.
Mike Tynan, chief executive officer at the Nuclear AMRC, welcomed the announcement.
"This is another significant step towards new nuclear power in the UK. The confirmation that Westinghouse will be building its AP1000 reactors at Moorside is good news for UK manufacturers, as Westinghouse has long operated a policy of buying where it builds," Tynan said.
"A diversity of reactor technology also means diversity of supply chains, so the fact that we're looking at AP1000s alongside Areva EPRs and Hitachi ABWRs in the UK means that there will be great opportunities for manufacturers along the supply chain and across the country. We look forward to working with even more UK manufacturers to help them win work at Moorside and the other new build projects at home and worldwide."
Westinghouse says that "a large portion of the project" will be accessible to the UK supply chain. Fuel for the three reactors will be manufactured at Westinghouse Springfields, near Preston.
"This project supports the UK government's policy for new nuclear development – the timetable to operation, financial robustness, proven technology, and the project's overall benefit to the U.K. economy," said Jeffrey Benjamin, Westinghouse senior vice president for nuclear power plants. "The global expertise and commitment of Toshiba, Westinghouse's world-leading technology vendor status, and GDF Suez's pioneering expertise as a European nuclear operator are a powerful combination. We know that this plant design is the right choice for the future, the right choice for Cumbria and the UK."
The AP1000, like Areva's EPR, is a Generation III+ pressurised water reactor (PWR), offering a range of safety, economic and operational improvements over previous designs. The AP1000 has an output of 1150MWe.
The AP1000 has been granted interim acceptance under the generic design assessment (GDA) required by the UK regulators. There are still some outstanding issues, which Westinghouse will address now that it has a UK customer.