A new study shows that the UK's civil nuclear sector contributed £6.4 billion to the national economy last year – equivalent to the aerospace manufacturing industry.
The report also finds that the civil nuclear industry's 65,000 employees are among the most productive workforces in the country.
The first Nuclear Activity Report, compiled by Oxford Economics and commissioned by the Nuclear Industry Association (NIA), examines the economic impact of the civil nuclear power industry and its supply chains.
It finds that the sector's economic impact increases to £12.4 billion and 155,000 jobs when the sector's spend in the supply chain and wages spent by employees are taken into account. This includes around £650 million of indirect impact in the manufacturing and construction sectors.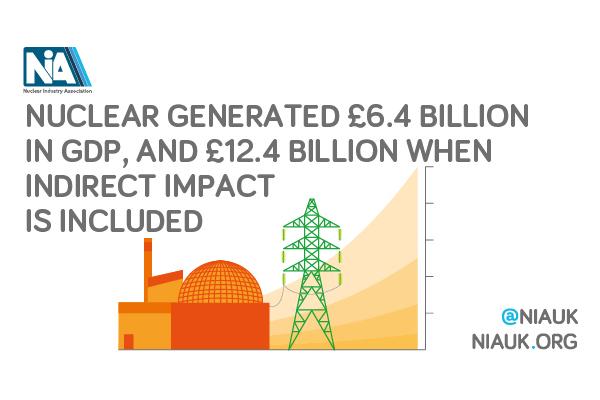 The report highlights the role played by the Nuclear AMRC's Fit For Nuclear and Civil Nuclear Sharing in Growth programmes in helping UK manufacturers enter and succeed in the nuclear manufacturing supply chain.
To date, around 630 organisations have taken the initial F4N assessment, with more than 130 being granted F4N. Participating companies showcased in the report include heat exchanger manufacturer Heatric, pump manufacturer Hayward Tyler, and steel specialist Outokumpu Stainless Distribution.
The report also highlights the importance of research and innovation within the nuclear sector, including the Nuclear AMRC's collaboration with member company Cammell Laird to develop modular manufacturing methods for the sector. Innovations from R&D activity diffuse throughout the economy, the report notes, providing benefits far wider than the sector itself and raising productivity across the economy.
Andrew Storer, chief executive officer of the Nuclear AMRC, commented: "This study emphasises the important contribution of the UK supply chain capability and capacity. As we replace existing generating plants with new technology, it is vital we ensure innovative R&D is delivered to further improve productivity and give the UK supply chain the technical capabilities to win work globally.
"Our research into manufacturing innovation and our Fit For Nuclear programme will help more UK companies enter the sector, as well as improve the current incumbents."
The report shows that the benefits of the civil nuclear sector are felt across the country, with the industry's activities supporting £1 in every £50 of economic output in the north-west and south-west of England.
NIA chief executive Tom Greatrex said: "For the first time we have comprehensive data which shows the important role the UK's civil nuclear sector plays in generating highly skilled and well paid jobs, making a significant contribution to the economy and supplying low carbon electricity to keep the lights on.
"The UK's nuclear sector is a vital part of the UK's industrial heritage and the government's industrial strategy, and the work being undertaken to bring forward a nuclear sector deal will be vital to underpinning and ultimately increasing this contribution."