The Nuclear AMRC's newest member company has secured a £20 million contract to produce waste containers for Magnox.
Sheffield-based heavy engineering specialist DavyMarkham will work with its sister company, Amber Precast, to design, test and construct transportable 6m3 concrete containers for intermediate-level waste (ILW) from the Magnox reactors. DavyMarkham is creating a new dedicated plant and up to 50 jobs at its site in Darnall to carry out the work.
"Being awarded this supply contract for concrete ILW containers is a step forward for DavyMarkham in its drive to become the UK leader in providing high integrity containers to the nuclear industry," says Bill Clark, DavyMarkham managing director.
"It's good to see the government and the Nuclear Decommissioning Authority supporting strategic UK manufacturing companies which benefit the UK's nuclear decommissioning industry as well as securing UK jobs. Importantly, it also provides UK manufacturers export opportunities with overseas buyers who are looking for innovative high-integrity products in support of safe decommissioning."
The four-year contract will draw on DavyMarkham's expertise in high quality steel fabrications for container casings and handling features, and the precast concrete capabilities of Derbyshire-based Amber Precast. Both firms are part of the Hughes-Armstrong Industries group.
Once the final design and manufacturing methodology have been approved, Magnox will require more than 1,000 of these 6m3 boxes to store various types of intermediate-level waste from the operational and early decommissioning phases of its UK power stations.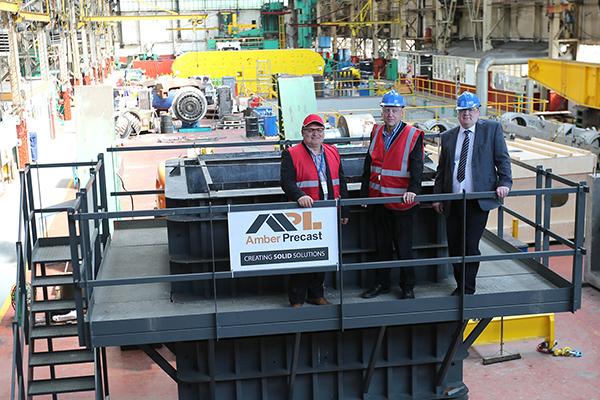 With a history going back to 1830, DavyMarkham is a leader in the design, manufacture and assembly of large equipment for mining, power generation, oil, gas and nuclear sectors. Since Clark led a buyout of the company in 2014 alongside Hughes-Armstrong, DavyMarkham has increasingly positioned itself at the top end of the manufacturing technology spectrum.
The contract was announced as DavyMarkham joined the Nuclear AMRC as a tier two member
"Membership of the Nuclear AMRC demonstrates DavyMarkham's commitment to participating in the nuclear supply chain through collaboration and innovation with key strategic partners," says Dr Alan Thompson, director of quality at DavyMarkham.
"We will work with the centre's engineers and partners to create production routes where technological developments and manufacturing excellence will deliver the required quality at an acceptable cost, and extend our research programme to reduce costs and manufacturing lead times."
DavyMarkham works with nuclear customers including Sellafield Ltd, AWE and Rolls-Royce. The firm completed the Fit For Nuclear programme in March 2016, and appointed industry veteran John Cheek as nuclear and defence director in October.