Nuclear industry employment is at its highest level in five years, according to the latest jobs map from the Nuclear Industry Association (NIA).
The annual study shows that the civil nuclear sector employs 64,509 people across the UK, an increase of more than 3,000 from 2021. However, the NIA warns that urgent investment is needed to sustain that trend and ensure that nationally critical skills are not lost as the existing nuclear fleet retires.
"The nuclear industry stands alone in sustaining tens of thousands of high-skilled, well-paid jobs which make a significant contribution to UK energy security and our net zero future," said Tom Greatrex, NIA chief executive. "We can have more of these jobs and opportunities for the next generation if we get on with building new stations – both a fleet of modular reactors and large-scale plants – to meet the government's commitment for more secure, reliable and British power."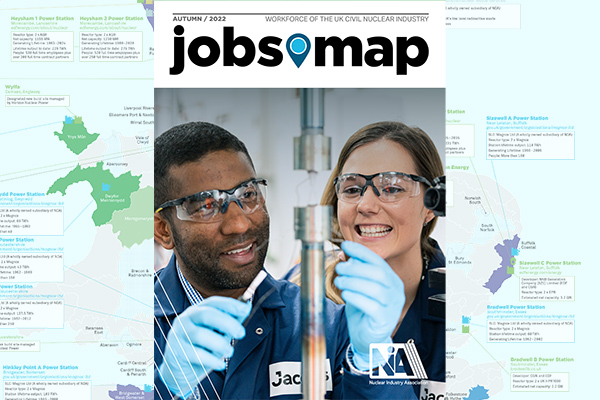 EDF's new build project at Hinkley Point C, the largest construction site in Europe, currently employs around 8,000 people. More than 950 apprentices have been trained on the project, and it will continue to support thousands of jobs across the country as it begins its next major phase.
Innovations in advanced nuclear technology have also driven the sector's strong employment presence. Rolls-Royce SMR has already created more than 330 jobs since its launch in late 2021, and a national programme of SMR deployment could create 6,000 more. And more than 2,200 people are working on nuclear fusion development at the Culham Centre for Fusion Energy in Oxfordshire.
North-west England remains the largest region for the industry, with more than 25,700 people working in decommissioning, fuel cycle research, reactor design and other disciplines. Another 15,000 work in the south-west, where the Hinkley Point C project has led to £4.1 billion invested across the region.
"This jobs map shows just how important the nuclear industry is to the UK, providing good, well paid, unionised jobs which offer real career opportunities for working people up and down and the country," commented Andy Prendergast, national secretary of the GMB union. "At a time of when we find ourselves in an energy crisis, it's even clearer that nuclear can be relied upon for the secure, clean energy which we desperately need."