Nuclear industry employment has grown solidly in 2021, according to the Nuclear Industry Association's latest study of jobs across the UK.
The NIA's annual Jobs Map shows that the civil nuclear sector now employs 61,371 people across the UK, an increase of more than 1,700 since 2020 – although the NIA warns that urgent investment is needed to sustain growth and ensure that critical skills are not lost as the existing nuclear fleet retires.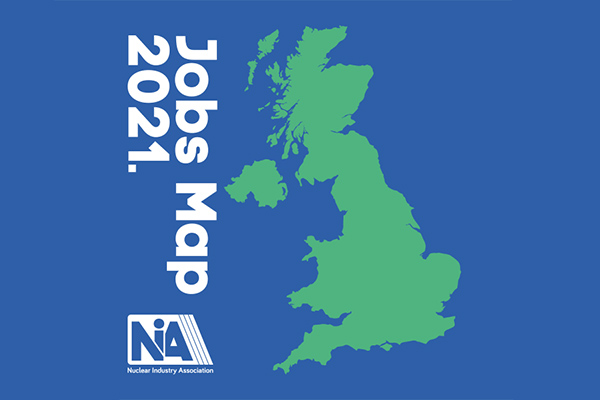 New build projects continue to play a vital role in sustaining employment and enhancing the UK's skills base. Hinkley Point C employs around 6,300 people on site, with more than 780 apprentices having been trained on the project to date. EDF recently announced that employment on site will rise to more than 8,000 in coming years. The proposed new build project at Sizewell C would deliver similar numbers, but is unlikely to go ahead without legislation for a new financing model.
The nuclear industry remains a vital engine of regional economic development, with more than 24,000 people employed in the North West in decommissioning, fuel cycle research, reactor design and other disciplines.
In the South West, the sector employs over 12,900 people, with £3.2 billion already spent across the region from the Hinkley Point C project, more than twice the initial target of £1.5 billion.
"The nuclear industry stands alone in sustaining tens of thousands of high-skilled, well-paid jobs in zero-emissions power across the country, making a significant contribution to the UK's net-zero future," said Tom Greatrex, chief executive of the NIA. "We can have more of these jobs and these opportunities for the next generation of young people if we get a new financing model that will enable building new low-carbon power stations."
Investment in new nuclear power is supported by the major trade unions representing workers in construction, manufacturing and engineering.
"These figures show that the nuclear industry is pivotal to the government's central missions, helping to decarbonise the economy and levelling up the regions of the UK by providing tens of thousands of good quality green jobs," commented Sue Ferns, senior deputy general secretary of Prospect. "However, the looming nuclear gap caused by delays in the new build programme puts these jobs and skills at risk. We need decisive action from the government now, starting with bringing forward the legislation on the funding model for new nuclear, so that we can secure both our clean energy future and the decent employment that comes with it."
Rob Macgregor, national officer from Unite the Union, said: "As we move away from fossil fuels into a new age of power generation, the role of nuclear generation and the next wave of engineers, technicians and support staff becomes ever more critical to the nation. These are highly-paid highly-skilled secure jobs, in an industry that is developing all the time, promoting the highest level of safety."
Andy Prendergast, national secretary for the GMB, added: "There will be no net zero by 2050 without new nuclear, and there will be no just transition without the tens of thousands of jobs that would be supported both directly and indirectly by the development of new nuclear capacity."