EDF has confirmed it is ready to invest in two new nuclear reactors at Hinkley Point in Somerset.
EDF made its final investment decision (FID) at a meeting of directors on 28 July. Following the vote, the UK government announced that it is reviewing its support for the project and will make a decision in early autumn.
Mike Tynan, chief executive officer of the Nuclear AMRC, said: "The Nuclear AMRC welcomes the decision by EDF to move forward with its project at Hinkley Point C. This is a landmark decision for the UK civil nuclear industry and one that shows confidence in the UK's ability to deliver a major infrastructure project for the civil nuclear industry.
"EDF has led the way in the drive for new nuclear power in the UK: it was the first through GDA, site licence, planning consents, and electricity price deals, and is now the first to FID. The Nuclear AMRC has supported EDF's supplier development programmes in its journey for UK EPR deployment, and we will continue to provide every assistance to the Hinkley Point C project as it moves through construction, installation, testing, commissioning and commercial operation.
"The project at Hinkley Point in Somerset will create thousands of long-term jobs in the nuclear industry, engage a wide range of UK suppliers, and deliver much-needed replacement nuclear generating capacity for decades to come."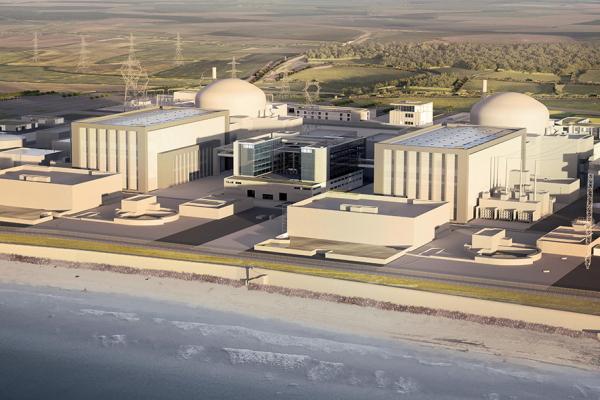 Industry response
Nuclear Industry Association chief executive Tom Greatrex urged the government to make a quick decision on Hinkley Point. "The most important thing is that the board of EDF and its investors have the finance in place to enable them to give the go ahead for the project and that is very good news. We have a strong UK supply chain which has built up its capability and has trained people so they are able to build and operate Hinkley Point C," Greatrex said.
Dame Sue Ion, chair of the UK's Nuclear Innovation Research Advisory Board, said that the Hinkley Point C decision will increase investor confidence in the UK's other proposed new build projects at Wylfa on Anglesey and Moorside in Cumbria. "It will stimulate the whole of the nuclear industry supply chain, reinvigorating advanced manufacturing in the UK and taking advantage of the investment made in entities like the Nuclear Advanced Manufacturing Research Centre in Rotherham," she said.

The Somerset Chamber of Commerce, which has been working with local companies to prepare for work on the project, said the government delay would be frustrating for many businesses. "However, we were very much encouraged by the fact that EDF's long-awaited final investment decision demonstrates a significant vote of confidence in the local, regional and national supply chain being ready, willing and able to deliver this major infrastructure project," said chief executive Dale Edwards. "This is a huge opportunity and having a little more time for suppliers to ensure they are fully prepared is no bad thing, as well as potentially giving more local firms an opportunity to get involved in the supply chain activity."
Background
The two Areva EPR reactors at Hinkley Point C (HPC) will strengthen EDF's presence in the UK, where its subsidiary EDF Energy already operates 15 nuclear reactors and is the UK's largest electricity supplier by volume. With a combined capacity of 3.2GW, the two HPC EPRs will provide around seven per cent of the UK's electricity demand.
The first concrete at HPC is scheduled for mid-2019, coinciding with the scheduled start-up of the EPR at Flamanville at the end of 2018. EDF says the first HPC reactor will generate electricity from the mid-2020s.
EDF estimates the construction cost of Hinkley Point C at £18 billion. It expects UK companies to be awarded contracts worth more than 60 per cent of the project's construction value.
Around £1.5 billion worth of contracts were provisionally placed with UK companies ahead of the final investment decision.
EDF has named seven top-tier preferred bidders to the project:
Bouygues TP/Laing O'Rourke (civil works).
Costain (marine work).
Alstom (turbines).
Areva (instrumentation & control, nuclear steam supply system, fuel).
Balfour Beatty Bailey (electrical work).
Cavendish Boccard Nuclear (mechanical pipework and installation).
Actan (HVAC).
Other preferred bidders include:
Rolls-Royce (heat exchangers).
Rolls-Royce/Nuvia (reactor coolant processing systems).
Weir (large pumps for cooling water).
Clyde Union (main pumps for feedwater system and cooling water system).
ABB UK (power transmission).
Ovivo (intake water filtration systems).
Laing O'Rourke (workers' campus accommodation).
Premier Interlink WACO UK Ltd (temporary buildings).
EDF will work with China General Nuclear Corporation (CGN) to deliver Hinkley Point C, with CGN taking a 33.5 per cent investment share. The two groups also propose to collaborate on deploying EPRs at Sizewell C, Suffolk, and the Chinese Hualong HPR-1000 reactor at Bradwell, Essex.