The UK government has given the go-ahead for Hinkley Point C, the country's first new nuclear power station for a generation.
The decision follows EDF's investment decision in July. Following a review of the project, the government says it has reached an agreement in principle with EDF, and will impose a new legal framework for future foreign investment in nuclear power stations and other critical infrastructure.
Update: Final contracts were signed by Greg Clark, secretary of state for Business, Energy and Industrial Strategy; Jean-Bernard Levy, chairman and CEO of EDF; and He Yu, chairman of CGN, on 29 September.
Mike Tynan, Nuclear AMRC chief executive officer, commented: "This is a landmark decision by British government and demonstrates a real commitment to the future of civil nuclear power in the UK.
"I very much welcome the government commitment to take a specific stakeholder interest in nuclear new build projects. I'm certain that this will provide additional confidence to project developers and maintain momentum on projects for new nuclear power stations on Anglesey in Wales, and in West Cumbria.
"The creation of thousands of jobs in the nuclear industry and its supply chain represents lasting economic value for the UK and is good news on both a regional and national basis. Our challenge now is to support project developers and their supply chains to ensure that these new power stations are built safely, and to time and cost. I very much look forward to electricity on the grid from EDF Hinkley Point C in the mid-2020s."
The agreement in principle means that the UK government will be able to prevent the sale of EDF's controlling stake prior to the completion of construction, without the prior notification and agreement of ministers. Existing legal powers, and the new legal framework, will mean that the government is able to intervene in the sale of EDF's stake once Hinkley is operational.
The new legal framework for future foreign investment in British critical infrastructure means that, after Hinkley Point C, the UK government will take a special share in all future nuclear new build projects. This will ensure that significant stakes cannot be sold without the government's knowledge or consent.
The Office for Nuclear Regulation will also be directed to require notice from developers or operators of nuclear sites of any change of ownership or part-ownership.
The government says these changes will bring Britain's policy framework for the ownership and control of critical infrastructure into line with other major economies.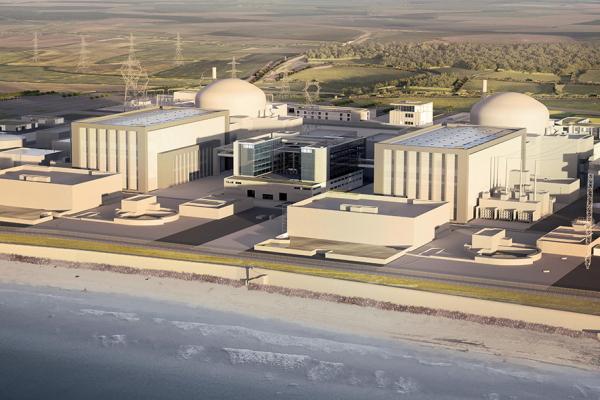 Background
The two Areva EPR reactors at Hinkley Point C (HPC) will strengthen EDF's presence in the UK, where its subsidiary EDF Energy already operates 15 nuclear reactors and is the UK's largest electricity supplier by volume. With a combined capacity of 3.2GW, the two HPC EPRs will provide around seven per cent of the UK's electricity demand.
The first concrete at HPC is scheduled for mid-2019, coinciding with the scheduled start-up of the EPR at Flamanville at the end of 2018. EDF says the first HPC reactor will generate electricity from the mid-2020s.
EDF estimates the construction cost of Hinkley Point C at £18 billion. It expects UK companies to be awarded contracts worth more than 60 per cent of the project's construction value.
Around £1.5 billion worth of contracts were provisionally placed with UK companies ahead of the final investment decision.
EDF has named seven top-tier preferred bidders to the project:
Bouygues TP/Laing O'Rourke – civil works.
Costain – marine work.
Alstom Energy (now part of GE) – turbines.
Areva – instrumentation & control, nuclear steam supply system, fuel.
Balfour Beatty Bailey – electrical work.
Cavendish Boccard Nuclear – mechanical pipework and installation.
Actan – HVAC.
Other preferred bidders include:
Rolls-Royce – heat exchangers, emergency diesel system.
Rolls-Royce/Nuvia – reactor coolant processing systems.
Weir – large pumps for cooling water.
Clyde Union (part of SPX Flow) – main pumps for feedwater system and cooling water system.
ABB UK – power transmission.
Ovivo – intake water filtration systems.
Laing O'Rourke – workers' campus accommodation.
Premier Interlink WACO UK Ltd – temporary buildings.
EDF plans to work with China General Nuclear Corporation (CGN) to deliver Hinkley Point C, with CGN taking a 33.5 per cent investment share. The two groups have also proposed a collaboration to deploy EPRs at Sizewell C, Suffolk, and the Chinese Hualong HPR-1000 reactor at Bradwell, Essex.