Nuclear reactor providers Areva and Westinghouse have received interim approval for their reactors to be built in the UK. However, both companies must resolve some outstanding issues before construction can begin.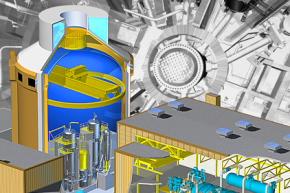 In the final stage of the UK government's Generic Design Assessment of the Areva UK EPR and Westinghouse AP1000, the Office for Nuclear Regulation has issued interim design acceptance confirmations for both reactor designs. The Environment Agency has also issured interim statements of design acceptability.
This means that the two regulatory agencies are satisfied with how the reactor designers plan to resolve a small number of remaining issues.
Kevin Allars, director for nuclear new build at the Office for Nuclear Regulation, said: "We have reached an important milestone. This interim acceptance confirms that all the plans on how the industry will resolve the outstanding issues are in place. This includes how they will address matters raised in the chief nuclear inspector's report, published in October, on lessons learnt for the UK from Fukushima. It is for the designers now to satisfy us that they have resolved these issues. We will not allow industry to build the reactors until they have done so."
The regulators have published detailed reports on the two designs, summarising their decision and providing detailed technical information. All documents are available from the ONR website.
Generic design approval is a key step towards approval for new nuclear power stations, by approving a standard reactor design which can be built in different locations by different developers. The utility groups planning to build new plant will also need further approvals including a nuclear site licence, environmental permits, and planning consent.
The news was welcomed by the reactor providers.
Mike Tynan, vice president for Westinghouse, said: "This announcement marks a tremendous milestone on the road towards seeing AP1000 reactors built in the UK. These interim approvals demonstrate clearly that the regulators believe the design will meet UK safety and environmental requirements and, although there remain a number of pieces of work to complete, the remaining activity does not pose a substantial risk to final approvals being granted.
"Some of the additional work required to go from Interim to Final approval status has already been carried out, some is currently in progress, and we will embark on the remainder once we have been selected as the preferred reactor design by a UK utility customer."
Alain-Pierre Raynaud, chairman of Areva UK, said: "We have already closed out a number of the outstanding issues and look forward to satisfying the regulators on any remaining questions, including those raised by Fukushima. This will open the way to construction of the first EPR in the UK and all the benefits our low carbon technology will bring in terms of employment and assured energy supply."
The EPR has been selected by EDF Energy for its proposed new stations at Hinkley Point and Sizewell. Chief executive Vincent de Rivaz said: "This is very good news for the EPR and for UK new nuclear build. It is a major milestone which follows a detailed four-year review by one of the most rigorous independent nuclear safety authorities in the world. We are conscious that there is still a lot to do to achieve final certification, and we will do it."