A survey of participating manufacturers has shown the impact the Fit For Nuclear programme is having in the UK supply chain.
Seventy per cent of respondents say they have increased confidence in entering the nuclear market, and half say they already have a better understanding of buyer requirements. As one respondent put it: "It has helped to remove the fear of the nuclear industry."
Fit For Nuclear (F4N) was launched five years ago by the Nuclear AMRC and industry partners to help manufacturers prepare to bid for work in the civil nuclear supply chain. F4N is a unique service which lets companies measure their operations against the standards required to supply the nuclear industry, and provides structured support to help companies close any gaps.
Over 250 companies which had reached the 'on-site review' stage in their F4N journey by January 2016 were invited to complete the survey, with more than half responding. The survey was carried out by the Manufacturing Advisory Service, which has worked with the Nuclear AMRC on an enhanced F4N programme over the past 18 months.
"It's very encouraging to read the overwhelmingly positive comments from companies at all stages of their F4N journey," says Mike Tynan, chief executive officer of the Nuclear AMRC.
"The response shows that UK manufacturers are certainly keen to get involved with the nuclear sector, have the capabilities to compete, and are prepared to take the steps necessary to meet the industry's justifiably stringent quality requirements – but many are still crying out for focused support and guidance to help them better understand the specific opportunities and requirements of the market.
"Supplier development programmes such as F4N provide focus and improvement planning for participating organisations, and the benefit of this work – as demonstrated in the results of this survey – should not be underestimated."
The current enhanced phase of the F4N programme, supported by the Regional Growth Fund, comes to an end in June. Over the past year, F4N has offered match funding worth an average of £10,000 to help companies put business and manufacturing improvement projects into action. More than 110 projects have been funded, with participating companies reporting that the funding will help create over £48 million of added value in their businesses and over 550 jobs.
Download the full impact survey report.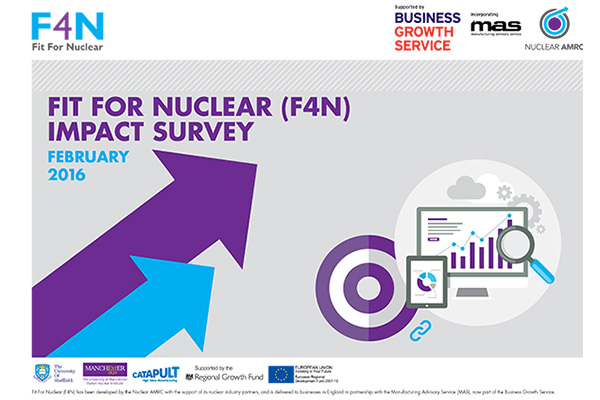 Quotes from manufacturers about F4N:
"A fabulous experience which has moved our business immeasurably beyond any other programme we have undertaken." – Craig Naylor, NTR Ltd.
"There are massive opportunities for many British based companies – but training and awareness of such opportunities is critical. F4N is ideally placed to provide this." – Phil Harmer, Al-Met Ltd.
"Excellent programme – even if we unable to gain entry into the nuclear sector, the benefits to the company of working through the action plan and training will improve the running of the company in all areas." – Chris Steele, WKW Precision Engineering.
"It has helped to remove the fear of the nuclear industry." – Kevin Wheeler, WES Ltd.