The UK government has confirmed that Chinese companies can invest in nuclear power generation companies.
Chancellor George Osborne announced that Chinese companies can take a stake ­– including potential majority stakes – in UK nuclear new build consortia. He made the announcement while visiting Taishan nuclear power station, a collaboration between EDF and the China General Nuclear Power Company (CGNPC), in southern China.
Osborne said: "Today is another demonstration of the next big step in the relationship between Britain and China – the world's oldest civil nuclear power and the world's fastest growing civil nuclear power. It is an important potential part of the government's plan for developing the next generation of nuclear power in Britain. It means the potential of more investment and jobs in Britain, and lower long-term energy costs for consumers."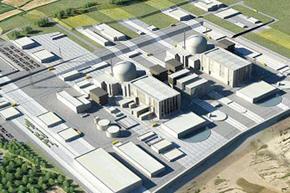 There has been ongoing speculation about a potential collaboration between EDF Energy – which is is proposing to build new Areva EPRs at Hinkley Point, Somerset (pictured), and Sizewell, Suffolk – and a Chinese partner for the UK projects. EDF, Areva and CGNPC signed a joint statement of cooperation in April covering development at Taishan and other sites, which paves the way for the European groups to help improve the safety and performance of CGNPC's reactors.
The announcement has been broadly welcomed by the UK nuclear industry.
"This is a significant and welcome investment announcement for the UK's nuclear new-build programme and supporting supply chain, which could lead to real export potential for UK manufacturers into China's internal, fast-growing, multi-billion pound nuclear new build market," commented Martin Ride, supply chain consultant at the Nuclear AMRC.
"We welcome the involvement of participating Chinese companies, and will work to develop relationships and interest in areas of manufacturing and business support which will lead to new opportunities for the UK. With advanced discussions on the market-price agreement and this announcement, October has seen nuclear new build move that much closer to realisation."
The announcement follows the signing of a new memorandum of understanding on civil nuclear collaboration between the UK and China. The memorandum sets the strategic framework for collaboration on investment, technology, construction and expertise.
As well as supporting Chinese investment in the UK, the memorandum will make sure that British companies such as Rolls Royce, International Nuclear Services (INS) and engineering companies such as Mott MacDonald can be part of China's multi-billion pound new nuclear programme. INS recently signed a memorandum of understanding with the Chinese Nuclear Power Engineering Company Ltd to share UK expertise in radioactive waste management.