A new Parliamentary report sets out what needs to happen over the next three years to allow nuclear power to play its full part in the UK's move to net zero emissions.
Net Zero Needs Nuclear: A Roadmap to 2024 (pdf) is written by the All-Party Parliamentary Group on Nuclear Energy, a forum for MPs and peers with an interest in nuclear power.
Most of the UK's current nuclear fleet is set to cease generation by 2024, presenting a major stumbling block on the road to net zero. Without investment in new nuclear capacity, the UK will also lose key jobs and capabilities in the supply chain, fuel manufacturing and reactor engineering.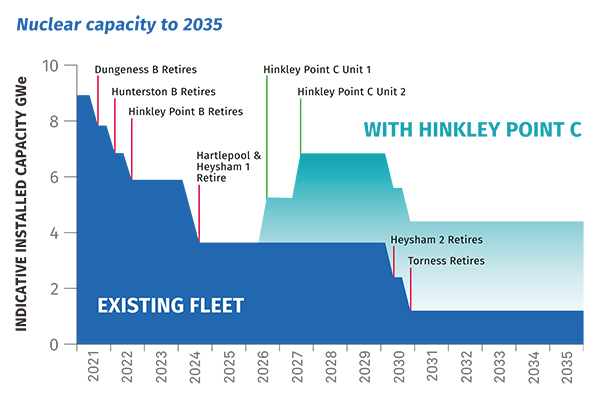 The report argues the case for at least 10GW of new nuclear capacity by the 2030s to cut emissions, create tens of thousands of high-quality jobs, and secure the UK's nuclear skills base.
For this to happen, the APPG proposes 10 actions during the life of this Parliament:
Issue guidance on the Generic Design Assessment (GDA) for small and advanced modular reactors (completed in May 2021).
Commence legislation for a new financing model for new nuclear projects (by end of 2021).
Confirm policy for new UK reactors to utilise fuel manufactured in the UK (end 2021).
Agree five-year funding and approach for delivery of an AMR demonstrator (end 2021).
National Policy Statement on siting of new build projects, including SMRs and AMRs (early 2022).
Establish the policy and legislative framework to enable the UK deployment of fleet of SMRs by the early 2030s (early 2022).
Support final investment decision for Sizewell C (autumn 2022).
Commit to the next tranche of UKAEA's STEP fusion programme, including site selection (end 2023).
Enact regulatory changes to allow integration of modular reactors with urban and industrial systems, to allow the use of alternative fuels and coolants, and to support fusion energy (March 2024).
Commitment to at least one additional gigawatt-scale nuclear power plant, and to enable further Gigawatt-scale development (mid 2024).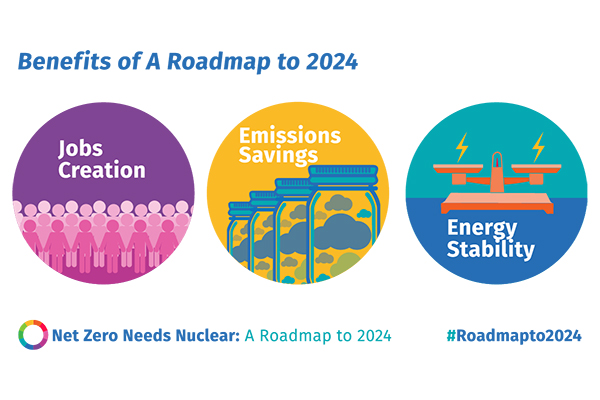 Any delay will make it harder to mobilise investment, maintain skills and close the clean power gap, the APPG notes – but swift implementation would cut emissions and create more than 90,000 skilled jobs across the country.