Westinghouse Electric Company has announced that its AP1000 reactor has entered the final closeout phase of the regulatory generic design assessment (GDA).
The GDA process is managed by the Office for Nuclear Regulation (ONR) and Environment Agency. It is intended to support the construction of a number of new nuclear power stations by approving a standard reactor design which can be built in different locations by different developers.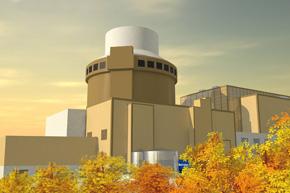 The regulators granted interim approval to the AP1000 in December 2011, but Westinghouse suspended final closeout until the reactor was selected for a UK new build project. That happened last year when NuGen confirmed plans to build three AP1000s at its Moorside site in West Cumbria, with the first unit online in 2024.
"The decision by the ONR and EA to advance the AP1000 plant review to the closeout phase is a very positive development for the Moorside project," said Jeff Benjamin, Westinghouse senior vice president for new plants and major projects. "We've cleared an important hurdle in our efforts to bring a new generation of safe, clean, reliable electricity to serve the UK's energy needs."
Mike Tynan, chief executive of the Nuclear AMRC, said the announcement is good news for UK manufacturers.
"The beginning of the close out of GDA for the Westinghouse AP1000 reactor is welcome news and is yet another positive step for the new nuclear power station proposed by NuGen for Moorside in West Cumbria," Tynan said. "Completion of GDA is a requirement before a site licence can be granted, and this affirmative action by Westinghouse signals an intent to progress the scheme on a timeline for first generation in the mid 2020s. Potential suppliers to AP1000 need to ensure that they are registered with Westinghouse and staying connected to Nuclear AMRC for support to the Moorside project and to the AP1000 reactor."
During the GDA closeout, Westinghouse will provide regulators with detailed technical information to address the remaining open issues in their assessment of the AP1000 plant design. Westinghouse is targeting completion in January 2017.
Eight AP1000s are currently under construction in the US and China, with an agreement signed last year for another in Bulgaria. Westinghouse says that additional units are also being considered by customers in other markets worldwide.
NuGen is a joint venture between Westinghouse's parent group Toshiba and GDF Suez.