New reactors in North Wales have moved a step closer as the Hitachi-GE Advanced Boiling Water Reactor (ABWR) has been approved for construction in the UK.
Horizon Nuclear Power plans to build two 1300MWe ABWRs at the Wylfa Newydd site on Anglesey by the mid-2020s; followed by two at Oldbury, Gloucestershire.
The ABWR has now completed the generic design assessment (GDA) managed by the Office for Nuclear Regulation (ONR) and Environment Agency with Natural Resources Wales. This assessment is intended to support the construction of a number of new nuclear power stations by approving a standard reactor design which can be built in different locations by different developers.
ONR has now issued a Design Acceptance Confirmation (DAC) and the environment agencies have issued a Statement of Design Acceptability (SoDA) to Hitachi-GE. This means that the regulators are satisfied that the ABWR meets regulatory expectations on safety, security and environmental protection at this stage of the regulatory process.
Each build will still require a site-specific licence. Horizon expects to obtain all necessary licences for Wylfa Newydd by the end of 2018.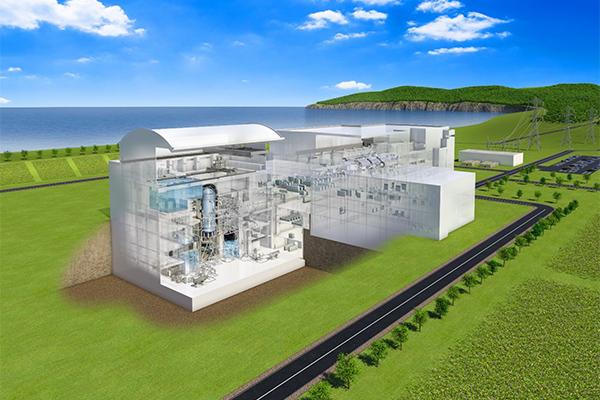 ONR chief nuclear inspector Mark Foy commented: "The completion of the generic design assessment of the UK ABWR is a significant step in our regulation of the overall process to construct this type of reactor in the UK, ensuring that the generic design meets the highest standards of safety that we expect in this country. We're already working on our assessment of Horizon's site licence application and on the development of the site specific safety case to progress, in due course, the construction and operation of these reactors at Wylfa Newydd."
Tadashi Kume, president & representative director of Hitachi-GE, said: "Meeting the famously high standards of the UK regulators  and completing GDA within our five year target further demonstrates the strength of this project, and capability of the team delivering it. GDA is a thorough and rigorous assessment, and receiving approval on schedule is a credit to the outstanding design of the UK ABWR."
Andrew Storer, chief executive of the Nuclear AMRC, welcomed the announcement: "This is great news for the progress of the UK's nuclear new build programme. Wylfa Newydd will bring significant opportunities for UK manufacturers and, as the project moves into the delivery phase, we look forward to working with Horizon to develop its UK supply chain."
Horizon estimates that around 60 per cent by value of the first reactor will be sourced in the UK, with more local input into later plant. Hitachi-GE has signed agreements with Rolls-Royce and Babcock International to plan and deliver the programme, and will establish an assembly facility for its modular construction technology in the UK.
Manufacturers can register their interest via Horizon Nuclear Power supplier registration.