Young engineer Philip Cradduck joined the Nuclear AMRC in October 2019, with support from the nucleargraduates programme. He is spending an initial eight months at the centre as a research engineer – the remainder of his two-year programme will then give him the opportunity to gain experience in different organisations within the nuclear sector.  We asked him to talk about what he has learned so far.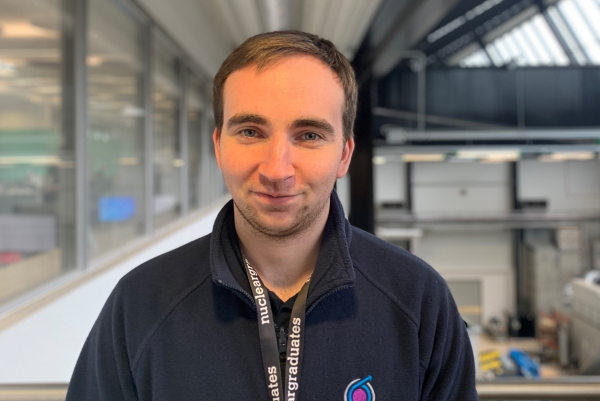 I studied Mechanical Engineering at Aston University and, as part of the course, completed a year-long placement at an SME in Newcastle-under-Lyme working on design, prototyping, testing and other areas of engineering. I completed my degree with a 2:1 BEng.
I decided to apply for the nucleargraduates programme set up by the Nuclear Decommissioning Authority. With its strong industry connections and the opportunity to develop my skills at multiple companies in different areas of the sector, it seemed a great way to begin my career.
I went along to the assessment centre where I realised my knowledge on the nuclear industry was not as developed as I needed, which made me feel as if my chances of getting onto the programme were slim. This ultimately gave me the confidence to throw myself into the two days of assessments as I felt that I had nothing to lose. This was extremely beneficial to me obtaining the place on the scheme, as it allowed me to showcase my social skills and confidence to the assessors.
I wanted to work at the Nuclear AMRC as part of my graduate secondment as, from an outside perspective, their work seemed extremely interesting. The idea of conducting research into a field as cutting edge as the nuclear industry was too good an opportunity to pass up, and the modernity of the Nuclear AMRC building, facilities and equipment was a great choice.
During my time here at Nuclear AMRC, I have learnt how critical the skill of communication is when working with different people from various teams to complete projects effectively. In my previous roles, I had worked within smaller teams, so being invited into a larger environment has highlighted how important being forward-thinking and an excellent communicator can be to the success of a project.
This was best shown on an internal project I was working on, which required expertise from the operators, research engineers, production engineers and other senior members of staff.
I also quickly became aware that I should not be worried about asking questions, as I have learnt that bringing a different perspective to a team is very valuable. Staff at the centre – whether within my team or at a senior level – have been very keen to speak about their projects and are always able to offer assistance, which has enabled me to feel comfortable asking for help.
I will take away great experience from working in such a large environment and from observing the experts around me. I now fully understand the technical depth of becoming a technical lead/expert, and I look forward to developing my knowledge of the nuclear industry to achieve my career goal of becoming a chartered engineer.
I am still considering my options for my next placement. However, I am looking for an opportunity that will allow me to bring forward the communication and organisation skills I have developed as well as work practices.