Joshua Taylor is studying Mechanical Engineering at the University of Sheffield, and joined the Nuclear AMRC in July 2019 for a year's placement as an assistant research engineer. We asked him to share what he's learnt.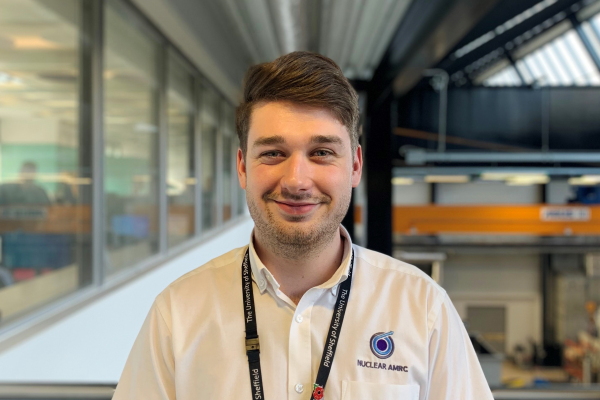 My experience of applying was relatively easy. Entry required an expected 2:1 which I was on track to achieve. I had to fill in a small form, and was contacted for an interview shortly after the closing date.
The interview was very relaxed, with questions mainly focusing on why I wanted to work in research, and talking through a prepared presentation on the civil nuclear industry in the UK. I was offered the placement a day or two after the interview. I was over the moon that I'd been offered this opportunity, as it's difficult to secure a role like this in research.
I wanted to work at the Nuclear AMRC because university consists of learning about the discoveries of others and how they relate to a specific field. I wanted to work in manufacturing research as I wanted to be at the forefront of these discoveries, rather than learning about them in a theory-based environment.
I have learnt about the fundamentals of research, including how to plan, execute and record experiments. I have also been able to reinforce my university knowledge by applying it to real-life situations.
The knowledge that I have gained from this placement is invaluable, from learning about the fundamentals of research to learning about robotic machining – an area I was excited about since seeing the robot cell during my interview.
One of my proudest achievements was helping to write the tender for a high value contract on very short notice, which the centre ultimately ended up winning. This consisted of gathering the requested information from various sources around the centre and university, and arranging international delivery for a paper copy of the tender. This took a lot of teamwork and organisation to bring the necessary documentation together in the short time frame.
This placement has given me a view of engineering that you don't get at university: a look at the actual implementation of your studies and how these affect real-world scenarios.
From this placement, I will take away the ability to work effectively in a team and on my own. I now have a greater understanding of engineering principles which has helped me to refine my future career paths.