The Nuclear AMRC's core work is about infrastructure projects to eliminate greenhouse gas emissions, but smaller changes can also make a difference. For World Environment Day, assistant research engineer Kamryn Ford talks about the Green Impact scheme at the centre.
Green Impact is an award-winning international programme to support environmentally and socially sustainable practice within organisations. Developed by the National Union of Students (NUS), it aims to reinforce positive environmental action within the workplace, universities and the local community.
Teams involved in the scheme plan projects based around environmental and sustainability issues, and can pick up a bronze, silver or gold award for their efforts.
We rebooted the Nuclear AMRC team in September 2019, and I took over from previous placement student Ben Pamment. Thanks to Ben's efforts last year, the Nuclear AMRC Green Impact team achieved a bronze award for setting up the quiet room.
This is a comfy safe space just behind the reception, for anyone who finds themselves needing some time to reflect or take a breather. It can be used by any staff member at the centre, and is very useful when you are feeling too stressed. The quiet room has a fluffy carpet and an Ikea sofa to take you away from the workplace environment, which helps calm the mind.
This year, our team have worked on two projects to improve both wildlife preservation and the mental and physical wellbeing of Nuclear AMRC staff. Our project choices were based on the 17 UN sustainability goals, which staff all voted on last summer – the top two goals were "climate action" and "good health and wellbeing".
Our first project aimed to encourage wildlife back to the surrounding grassy areas of the factory grounds. Considering the Advanced Manufacturing Park is just off of a main road with busy traffic, we felt that the little living creatures and creepy-crawlies might need a bit of solitude.
We were very kindly donated some wildflowers to plant from Grow Wild, a community fund charity with aims of bringing people together to volunteer to plant native flora. We also had plans to build bug hotels and beehives on the grounds, with help from our resident beekeeper John Scholey – but unfortunately, our plans came to a halt due to the lockdown.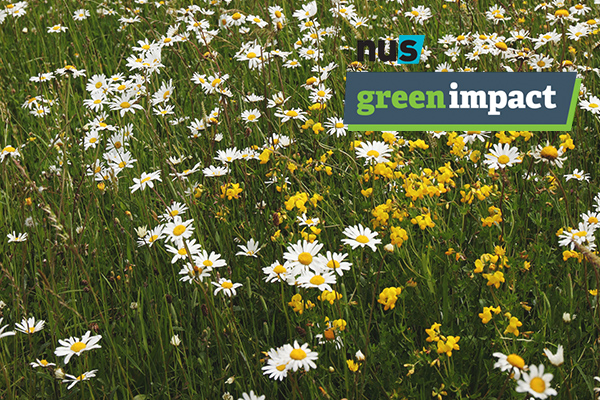 The second project was to encourage positive mental and physical wellbeing among staff through several ideas, such as after-work walks on the nearby Waverley nature trails, and office plant-growing competitions to improve CO2 conditions (and for a bit of fun).
We also devised plans for more regular social meetups and meals, as workplace depression and loneliness often go unnoticed. We were even going to build a few picnic benches outside for healthier lunches in the fresh air. This, again, came to a grinding halt due to the situation with Covid-19 and social distancing in the workplace.
Although this year may have made our plans much more difficult, we fully expect to return to work and get stuck back into our Green Impact tasks. Our achievements for the work we have managed to do so far, however, have actually won us a bronze award again!
We're proud of what we have accomplished and proud of the staff for getting involved. Now we can wait patiently for the physical plaque to arrive at the office sometime in the near future, and next year we aim higher for silver or gold!