Industry events have long been seen as an essential way of making new contacts and sharing knowledge, but the Covid lockdown put a sudden halt to face-to-face meetings. Nuclear AMRC events manager Jo Byron explains how the centre adapted to online events, and looks forward to a hybrid future with the best of the virtual and real worlds.
I've always worked in hospitality and events, with 22 years of experience working in prestigious venues across the UK delivering high-profile events for customers such as Siemens, Rolls-Royce and BMW. Joining the Nuclear AMRC in early 2017 was quite a change, but organising an event was not.
Providing an efficient and professional service to our customers and partners is no different to greeting a guest in a four-star property. My skills and experience were quickly adopted by the centre, and I soon played a key role in launching our new Birkenhead and Derby centres, as well as managing our regular calendar of visits, seminars and partner events. Last year, I played a key role in delivering Nuclear Innovation UK, the Nuclear AMRC's first major conference, bringing around 275 delegates to Cutlers' Hall in Sheffield.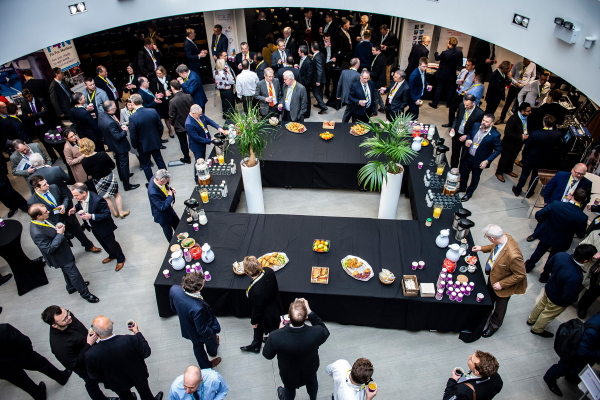 That now seems like a different world. With the start of the Covid pandemic, events came to an almost complete standstill. We decided to cancel and postpone any events, visits and tours with immediate effect.
Over the past few months, I have seen the events industry emphasise the need to diversify into the virtual sphere. With so many webinars and virtual events filling the diary to replace in-person events, my initial challenge was to carefully consider the objectives and practicalities of launching our own webinars.
Our key focus is always on engaging our customers in the nuclear supply chain, providing support and sharing information on new opportunities. In early June, we reached out to our members and the F4N community with our first webinar, sharing our lessons learnt on managing a safe return to work. This was a huge success, and the Nuclear Industry Association offered another opportunity to present to a wider audience shortly after.
We are now planning a variety of webinars over the next few months, delivered by our technical leads, chief technology officer and business development teams.
I was recently part of a small organising group for the first UK World Nuclear Exhibition (WNE) networking event, in place of the full-scale WNE which has been postponed to December. This was attended by more than 150 people, with very positive feedback despite some technical problems on the day. On reflection, our committee agreed that there will be a continuing need for virtual events, but it's yet to be proven whether they can ever really replace the buzz, creativity and sheer vibrancy of a live event.
As event planners, we are more than capable of readjusting and adapting to any situation. Since the start of lockdown, our team have researched the different types of platform available and, after many trials, have adopted a platform which met our needs. These included being able to capture a guest's registration and generate automated links, launch poll data questions mid-webinar to capture market intelligence and opinion, and capture and analyse data following the webinar.
Comprehensive analytics and reporting are extremely important. We can understand how many people viewed an entire presentation, record submitted questions and chat information, receive marketing intelligence through poll questions, and use smart features such as understanding each attendee's attentiveness. These are difficult stats to pull from in-person events, but are at your fingertips with online events.
Knowing your viewing statistics and engagement scores can really help you fine-tune your content and determine what's working and what's not, without having to rely on a post-event survey that only a small proportion of attendees will actually complete.
Like many other organisations and businesses, we need to adapt to virtual and hybrid platforms. Many key industry events are being considered as hybrid in 2021, but for now we continue to support and attend virtual activity. We are now looking at ways to host a virtual tour of our factory.
I do think virtual events have a lot going for them, and I do feel they will continue to play a big part in the events industry even when live events return. They do offer some positive impacts, by avoiding carbon-intensive travel, saving delegates' time and expense, and offering more accessibility.
Virtual events are cost-effective for organisers, eliminating spending on venue hire, food and drink, and accommodation for speakers. They can also be more reliable, with no cancellation risk from weather or venue complications. And because attendees can view the event from anywhere, we can offer much more flexibility to attendees and gain far larger audiences.
But you can never replace the networking value of face-to-face interaction, which inevitably has more impact. Physical events provide strong brand association and fond memories that build authority over time, and sharing branded merchandise is a great way to leave your mark in the mind of attendees.
The latest government advice is that in-person events could re-start from October. With so many events postponed since March, there is concern across the industry that the events diary could become congested with events stacked on top of one another over the next 18 months.
We are carefully considering the events we will host and support, and working with event partners to ensure clear communication and allow people to meet and network with confidence.