Beatriz Acevedo Gonzalez, a mechanical engineering student at Loughborough University, undertook a year's placement at the Nuclear AMRC as an assistant research engineer. We asked her to share what she had learnt.
Before applying to the placement at Nuclear AMRC, I had some background in a research setting through a previous engineering summer research placement with Loughborough Sport.
I believe this helped me to show my enthusiasm and willingness to learn about engineering. After applying, I had to undertake an interview where I was asked to demonstrate effective communication skills by presenting the opportunities and challenges facing the UK civil nuclear industry.
I wanted to work at Nuclear AMRC because it is at the forefront of manufacturing technologies and this excited me. It is a great place to work for problem-solving and investigation-based work, and I knew I would be working on essential skills that would benefit me in my later career.
During my time at the centre, I have learnt a lot of practical engineering knowledge from the different types of project work I have undertaken. I have learnt about organisation in order to complete projects as planned, and to work effectively within a team.
I put myself forward for presenting virtual reality demonstrations to external visitors, which meant that I have continuously improved my skills with the equipment while also helping my presentation and confidence.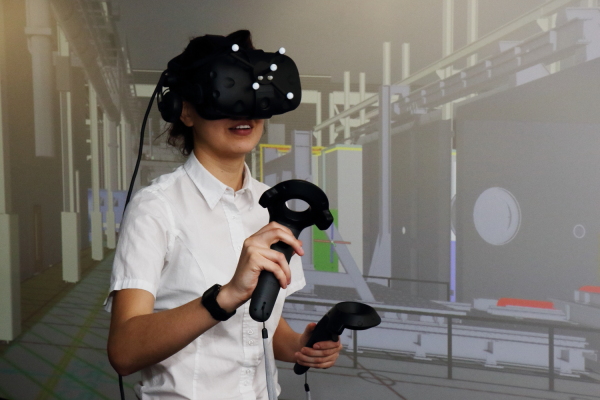 As the technical secretary to the research board, I also had the opportunity to learn a lot about the world-leading ideas discussed within the nuclear industry. I also learnt about all the different organisations it takes to drive the nuclear sector. This knowledge and information was extremely valuable in helping me understand the nuclear industry in more detail.
One of my highlights at the centre was submitting an idea to the Spark! Contest, which is a British–French competition to produce innovative thinking on a topic related to energy. My team and I made it to the second round, which was supposed to be in Paris – but due to the pandemic, this was moved to a virtual platform which I wrote about in an earlier article.
I also became a STEM Ambassador and helped Rotherham College complete an industrial partner project for the Engineering Development Trust (EDT) scheme, which was a rewarding experience.
The challenges I faced were when I didn't have the background knowledge I needed when starting particular projects and topics – however, this is why I decided to undertake a placement year as it helped me expand my skills and knowledge. There was also a lot of work with suppliers which was a steep learning curve, but something that will massively benefit me in the future.
I will take a great deal of skills back to my final year of university. These include presentation skills, practical engineering skills and knowledge, and report writing skills. In particular, I have noticed that I am a lot more organised with my time and have become a self-motivated individual.
Overall, my experience at Nuclear AMRC was extremely rewarding and I enjoyed the working atmosphere and the people that I have met at the centre.