The Nuclear AMRC now boasts a new low-carbon landmark, with the installation of a 99 metre wind turbine.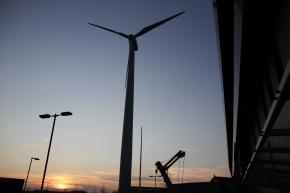 Sited immediately outside the Nuclear AMRC research factory at the Advanced Manufacturing Park, South Yorkshire, the Powerwind 56 turbine will significantly reduce the carbon footprint of the centre.
The turbine has a rated power output of 900kW. Onshore wind turbines in the UK typically operate at an average of 25% of the rated output, so the Nuclear AMRC's turbine should generate an average of over 5000kWh per day, equivalent to the electricity used by 500 households.
The Powerwind 56 turbine is the first of its kind to be installed in the UK. The turbine includes advanced design features adapted from the largest multi-megawatt designs, including a water-cooled generator and full-scale converter which allow smooth operation in rough conditions and minimise the risk of noise and visual disturbance.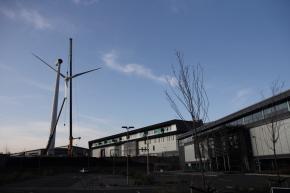 The turbine took a week to install, with the 56m-diameter rotor head attached to the 71m tower in the afternoon of Saturday 19 November. Final testing and commissioning will take around a month.
The Nuclear AMRC development also includes ground source heat pumps, with a capacity of 320kW, to provide heating for the centre. The building has been designed to 'Excellent' BREEAM standards for sustainability, emphasising the contribution that nuclear power can make to a mixed low-carbon economy.
The Nuclear AMRC's turbine is the largest to be installed on the Advanced Manufacturing Park, formerly the site of the Waverley colliery, on the boundary of Sheffield and Rotherham. The turbine is visible from the M1 motorway around the Tinsley viaduct – formerly the location of a coal-fired power station whose landmark cooling towers were demolished in 2008, and where construction will soon start on a new biomass power plant.