Derby's bid to establish a world-class advanced manufacturing research centre at Infinity Park has moved a step closer, with the submission of a full planning application for the new Nuclear AMRC Midlands building.
The new centre will be operated by the Nuclear AMRC, and is expected to initially create up to 70 high-value jobs, rising to 120. With around 4,400 square metres of floorspace, it will further extend the centre's ability to help manufacturers develop and adopt innovative technologies which will deliver the maximum impact for the UK's nuclear supply chain.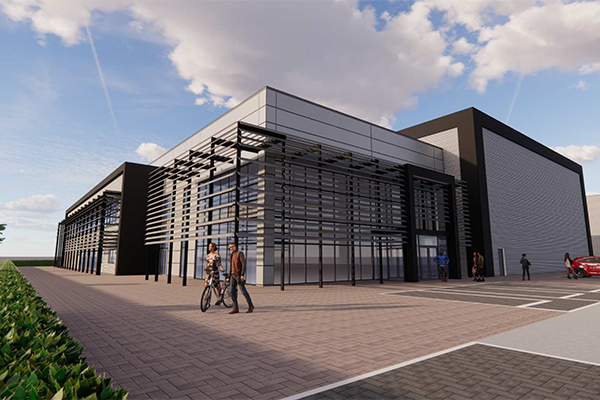 "We're delighted to see this project meet yet another key milestone," said strategy director Dr Emma Kelly. "The Nuclear AMRC has run a successful pilot at the iHub facility on Infinity Park over the past two years, and we look forward to continuing and expanding into the new facility, working with Derby City Council, regional universities and businesses to deliver jobs and support the economic recovery of the region."
The new facility will also become a base for the University of Derby's Institute of Innovation in Sustainable Engineering, which has developed an international reputation for innovation in design, manufacturing, product lifecycle management and application of new and smart materials.
The planning application, submitted on behalf of Infinity Park Derby LLP, proposes a two-storey office with car parking, including four electric car charging points, cycle storage, and a secure service yard for HGV operations.
The application puts a strong emphasis on sustainability, with materials selected for energy efficiency, environmental impact, recyclability, and ongoing maintenance. Proposals include the construction of a surface water attenuation lagoon with open grassland and scrub habitats that will be complemented by new broad-leaved trees and species-rich hedgerows – providing longer term benefits for biodiversity, landscape character and adaption to climate change.
The design creates a striking visual appearance that has taken a lead from the existing iHub building, using high quality materials and a simple colour palette to provide a strong design statement set within a high-quality landscape setting.
"This is yet another key milestone for this fantastic project," said Paul Simpson, chief executive at Derby City Council. "The proposed facility is great news for Derby's SME businesses. We hope that this will further propel Infinity Park Derby as the manufacturing destination of choice. Having a world-class research facility on our doorstep is a huge boost for the city and supports our drive to emerge stronger in our economic recovery."
The new facility has been in principle allocated just over £9 million of funding by the D2N2 Local Enterprise Partnership, subject to the approval of a full business case.