Two major new pieces of advanced welding equipment are now available for collaborative research and development – a powerful diode laser cladding facility, and the largest electron beam welding chamber in the UK.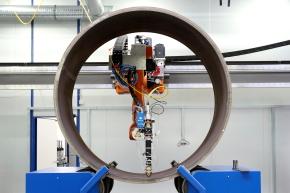 The Nuclear AMRC's new diode laser cladding cell features a 15kW Laserline fibre-coupled diode laser, controlled by a gantry-mounted robot arm.
"This is one of the most powerful diode lasers commercially available," says Bernd Baufeld, power beam technology lead at the Nuclear AMRC. "We can work with large pieces and bridge the gap between small university-scale development and final large-scale production."
Diode laser cladding uses a powerful laser to rapidly coat large areas of metal with a high quality layer of speciality alloy. Currently used in the aerospace, automotive and offshore industries, it can potentially revolutionise the production of pressure vessels for the civil nuclear sector. Compared with current methods used to clad vessel interiors, such as conventional wire or strip cladding, diode laser cladding can cut production time from weeks to hours.
The Nuclear AMRC's diode laser facility is capable of working on pieces of up to three metres diameter. It can deposit stainless steel, nickel alloys, wear-resistant alloys and other specialist cladding material at up to 10kg per hour.
Initial research focusing on proving the viability of diode laser cladding for civil nuclear pressure vessels. The cell will also be available for collaborative research and development for other industries requiring large-scale surface enhancement.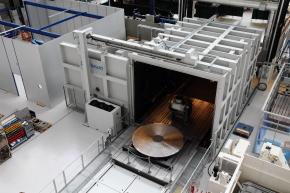 The Nuclear AMRC has also begun operations on its Pro-Beam K2000 electron beam welding chamber, which was handed over in March following a 10 month installation and commissioning process.
With a vacuum chamber volume of 208m3, over 80 times the volume of the centre's established K25 chamber, the K2000 is believed to be the largest e-beam chamber available for research anywhere in the world.
Engineers and executives from Pro-Beam and UK agents Vacuum Furnace Engineering joined welding specialists from Rolls-Royce and the Nuclear AMRC to toast the handover.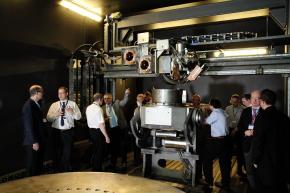 "It's a fantastic, unique piece of equipment, not only in terms of its size, but also its capabilities," Keith Bridger, Nuclear AMRC head of welding and materials engineering, told guests. "The design team at Pro-Beam must be congratulated because they faced some really big challenges."
The Pro-Beam K2000 can complete very intricate joins on large components using nine axes of movement – four for the component and five for the electron gun. It can be used to weld gas turbine parts up to three metres in diameter, with fully automatic joint following and variable thickness programming – capabilities found in only a handful of machines worldwide.
Electron beam welding can join very thick metal sections with a single weld, potentially cutting the time required to join nuclear pressure vessels from weeks to hours. The Nuclear AMRC team has already demonstrated a 100mm thick weld on the smaller K25 chamber.
---
Video produced for Pro-Beam.
---