Innovative metrology company Insphere has joined the Nuclear AMRC as a member, to support ongoing development of its on-machine measurement and verification technology.
The Bristol-based company has worked with the Nuclear AMRC, part of the High Value Manufacturing Catapult, since early 2018 to develop its Baseline system.
Baseline can provide full verification of a large machine tool in less than one hour, facilitating regular checks and providing confidence in performance prior to cutting metal. The Nuclear AMRC hosted the product's launch in March 2019, after Insphere's engineers worked with the centre's metrology and machining team to test and develop Baseline on its largest machine tool platforms.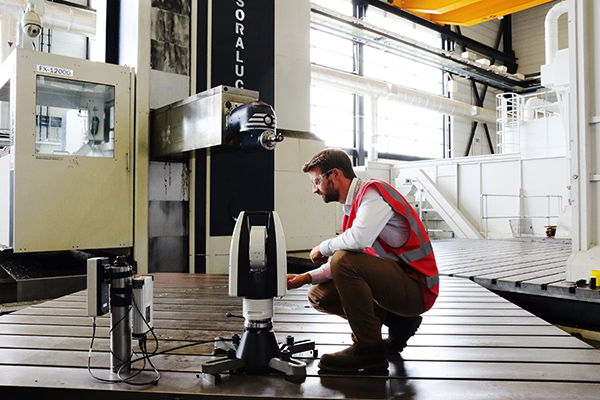 Ben Adeline, Insphere chief executive, says: "We're delighted to become a member of the Nuclear AMRC. This confirms our ongoing commitment to work with the centre to develop innovative methods of improving machine tool performance through the use of metrology data. 
"This will form a critical part of our company strategy to develop state-of-the-art products to serve the advanced manufacturing community."
Becoming a tier two member of the Nuclear AMRC will allow Insphere to work closely with the centre's researchers to develop its technology, tap into the centre's other advanced machining and metrology research projects, and build links with leading manufacturers in the supply chain for nuclear and other quality-critical industries.
Insphere engineers are now installing the Baseline system on the Nuclear AMRC's Soraluce FX12000 horizontal boring machine, and will provide ongoing technical support as part of the company's membership. Capable of working on pieces of up to 12 metres length and five metres diameter, the Soraluce is the largest machining platform available for collaborative R&D in the UK.
Dave Stoddart, head of simulation and verification at the Nuclear AMRC, says: "I'm delighted to welcome Insphere as a full member of the Nuclear AMRC. Their Baseline system will enhance the capability of our Soraluce machine by enabling rapid validation of its current performance, ensuring we can tackle highly challenging machining operations with confidence.
"Insphere have a proven track record of delivering highly innovative complex solutions, and we look forward to working with them and helping the UK's nuclear supply chain access their expertise."
The Baseline system uses laser tracking technology, provided by Nuclear AMRC member Hexagon Manufacturing Intelligence, to rapidly create an accurate three-dimensional picture of the machining platform. Insphere's software runs the instrument to gather the data, then applies a set of algorithms to determine variations in any of the 21 forms of geometric error encountered in three-axis machine tools, plus any variation in the rotary axis.
The process takes between 30 and 60 minutes for a rapid "health check" verification of all axes and squareness. A full verification, including tests of the machine's dynamic response, can take from 45 minutes to two hours depending on the size and complexity of the machining platform. The system can also run a full ISO230 compliant test.
By allowing rapid identification of any problems, Baseline can improve productivity by enabling preventative maintenance before anything goes awry, minimising the risks of unexpected downtime, and reducing scrap. The data can also help integrate large machine tools into modern digital manufacturing systems.