Nuclear AMRC engineers brought their new Husky robot to Lakes College, West Cumbria, to test its abilities for detecting buried hazardous items at nuclear decommissioning sites.
The Nuclear AMRC's Derby-based digital controls and instrumentation research group recently acquired the Husky unmanned ground vehicle (UGV) to help tackle a range of nuclear industry challenges.
Similar UGVs have been deployed in a variety of sectors to work in hazardous or unpleasant conditions, or carry out tasks which are too risky or difficult for humans.
One major application for the nuclear sector is identifying hazardous buried components or scrap at nuclear decommissioning sites such as Sellafield. In an initial project funded by the High Value Manufacturing Catapult, the Nuclear AMRC team are applying autonomous and remote control technologies to guide and control a UGV equipped with a variety of sensors including ground-penetrating radar.
"To identify varying materials buried at different depths under the ground, there are only a few technologies available," explains technical lead Dr Ali Imam Sunny. "The most common one is the metal detector used to find buried treasure, but this cannot be deployed for industrial applications.
"The integration of ground-penetrating radar with a UGV has enormous potential to build a smart autonomous capability for ground inspection, which can be quickly deployed in the field and controlled remotely to provide an accurate underground survey for industry."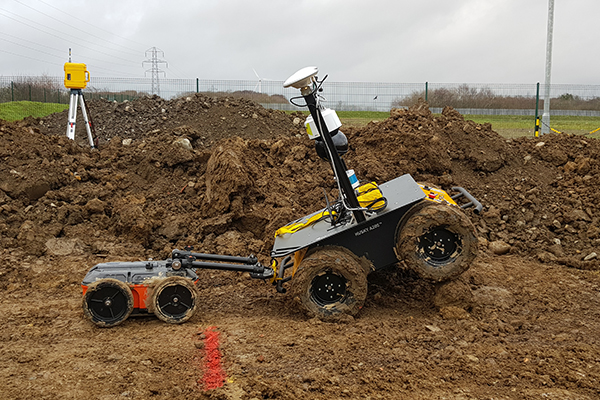 Following a comprehensive series of tests of the equipment's mobility, sturdiness, portability, reliability, sensing, logistics and agility, Dr Sunny and senior technician Jack Powell brought the Husky to Lakes College for further field tests to find simulated items buried in the college grounds.
The trials were keenly watched by apprentices and students from the College. Dr Sunny discussed the methodology and practices of the project, and demonstrated how the autonomous inspection technology can benefit locally important industries such as nuclear and construction.
The visit brought several benefits to Lakes College, says Eleanor Fleming, civil engineering curriculum team leader. "The students got to see up-and-coming technologies, which were presented in a really engaging way by the team at our West Cumbrian campus, and the staff gained valuable CPD," she notes.
"The study was then taken by the staff back to our classes, and used to engage students on some informed debates and projects. These were on sustainability and buried waste on Sellafield, new technologies and how they get adapted into the construction and civil engineering industries, and lastly what would they as future professionals bring as a new technology to a construction site."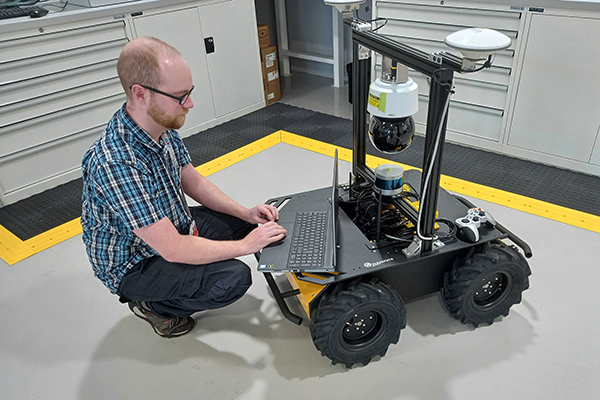 "Thanks for Lakes College for providing access to their ground for our continuing research, and the opportunity to show our latest technologies to the next-generation workforce," says Dr Li Li, head of the Nuclear AMRC controls and instrumentation group. "There are enormous opportunities to explore integrated unmanned vehicle technologies for the nuclear sector, and we're seeing huge interest in research and industrial demand. The successful completion of the field experiment with autonomous inspection system will accelerate the technology readiness level for industry, moving it closer to commercial deployment. This is a great example of applied research supported by the HVM Catapult to scale-up technologies and support UK industry."
Autonomous systems are used for a range of purposes such as remote sensing and working in hazardous environments. They often need to interact with an unknown and unstructured environment, and make decisions based on unexpected events that they encounter while performing their tasks.
"At the Nuclear AMRC, we are building up research capability for autonomous inspection and survey for industrial applications, linking to emerging technologies such as data analysis, machine learning and artificial intelligence," says Dr Li. "In addition to the UGV, we are planning to develop and deploy unmanned aerial vehicles for site surveying, mapping, detection and inspection for nuclear and other regulated industry sectors in the near future."
The Nuclear AMRC team will be demonstrating the Husky at the Mach 2022 exhibition at Birmingham NEC, 4–8 April. Find them on the High Value Manufacturing Catapult stand in hall 6.