The Nuclear AMRC has appointed a new business development director to help UK manufacturers win work in the civil nuclear sector.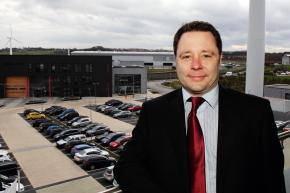 Stuart Harrison has worked in the nuclear sector since 1991, including 13 years with BNFL at Sellafield. He has held senior positions at a range of companies, most recently focusing on business development in the nuclear and engineering sectors. He joins the Nuclear AMRC from leading simulation specialist GSE Systems, where he collaborated closely with EDF Energy on an innovative training project.
"The Nuclear AMRC is all about working with the manufacturing sector to give companies access to very high quality manufacturing research, and help them improve their businesses to win work," says Harrison. "My role is to help them make that happen.
"I've worked in the nuclear sector for over 20 years, both in site operators and in the supply chain, so I've been both sides of the fence. My experience and network means that I can make the connections between the supply chain, the Nuclear AMRC, and the demands from the nuclear industry. Come and talk to us, and we'll see how we can create the opportunities to help you win work."
As business development director, Harrison will work closely with Nuclear AMRC chief executive Mike Tynan and the established business support and manufacturing research teams.
"Stuart brings a wealth of experience to the Nuclear AMRC. His knowledge, experience and understanding of the civil nuclear industry are crucial for us to succeed in our mission," Tynan says. "I am delighted that Stuart is joining us and I very much look forward to working with him on our exciting programme for UK civil nuclear."