The Nuclear AMRC has signed a new agreement with the Energy Industries Council (EIC) to work together to promote global opportunities in the nuclear industry and help UK companies enter the sector.
EIC chief executive Stuart Broadley and Nuclear AMRC chief executive Mike Tynan signed the memorandum of understanding (MOU) at an EIC conference hosted by the Nuclear AMRC on Tuesday 7 March.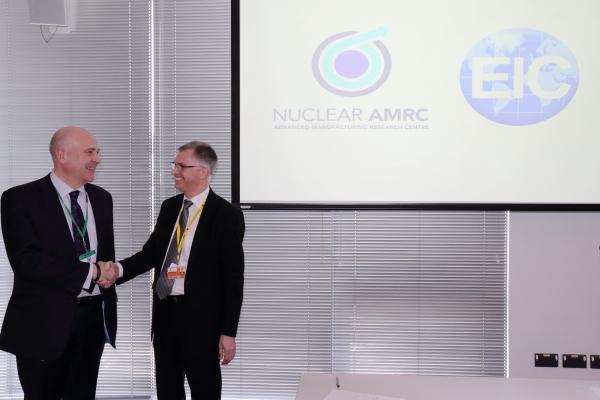 The MOU recognises the vital and complementary roles played by the two organisations and confirms that they will work together to ensure that UK suppliers already involved in the nuclear industry and those looking to enter the sector are supported.
As part of the agreement, the EIC and Nuclear AMRC will collaborate to produce events which showcase opportunities in the nuclear industry in the UK and around the world, with a strong emphasis on exporting UK capabilities.
The two organisations will also share the use of their state-of-the-art facilities for the benefit of EIC members, which are UK supply chain companies providing goods and services across the energy industries.
Both organisation will also share their knowledge and expertise to further develop the EIC's world-leading project tracking database, EICDataStream, as well as to produce EIC nuclear sector reports which will enable EIC members to identify opportunities and plan their business development in this sector.
Commenting at the signing, EIC CEO Stuart Broadley said: "Mike Tynan and I both recognise the enormous potential that exists for our two organisations to work closely together to expand UK expertise into the global nuclear sector. I'm delighted to sign this MOU, which will help to formalise that recognition into a series of specific areas where our complementary skills, experience and knowledge can be brought together to work more effectively."
Mike Tynan added: "We're very excited to work with the EIC to help their members win work in the civil nuclear sector. Companies with established experience in the wider energy sector are ideally placed to succeed in the nuclear supply chain, and we're here to help manufacturers develop their capabilities to meet the specific requirements of nuclear new build, operations and decommissioning."