Manufacturers who want to win work in the global nuclear sector can apply for business development and training worth £1 million, in the second round of the civil nuclear Sharing in Growth programme.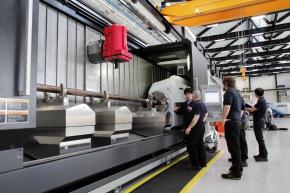 The £76 million civil nuclear Sharing in Growth (CNSIG) programme aims to develop the UK manufacturing supply chain and help UK companies win work in nuclear programmes – including new build, operations and decommissioning – at home and overseas.
CNSIG is part-funded by government through the Regional Growth Fund, and led by the Nuclear AMRC with support from Rolls-Royce and other industry leaders.
CNSIG includes a four-year programme of business development and training for the most promising manufacturers of mechanical equipment suitable for the civil nuclear sector. The support is tailored to the needs of the participating companies, and is worth around £1 million to each project.
Five companies successfully applied in the first phase of CNSIG at the start of the summer, and are now beginning their development projects – full details will be announced shortly.
Applications are now open for the second round of CNSIG business support. Companies can find out more about the programme and download an application form at: namrc.co.uk/work-with-us/sig
Mike Tynan, chief executive of the Nuclear AMRC, says: "Sharing in Growth is an innovative programme that will prepare the UK supply chain to win contracts in the national and international civil nuclear marketplace. It is a programme that will help create and sustain long-term capability in UK advanced manufacturing, and help build a new era of civil nuclear generating capacity in the UK."
Support provided under CNSIG includes shopfloor manufacturing improvement, process improvement, leadership development and specific nuclear sector knowledge. Support will continue for four years, ensuring that it delivers sustainable benefits.
The CNSIG programme is also supporting the Nuclear AMRC's ongoing research, helping UK manufacturers develop the technical capabilities to compete worldwide and bring new technologies and processes into production.
Launching the CNSIG programme, business and energy minister Michael Fallon said: "Our nuclear industrial strategy set out how, working with industry, we would capitalise on the significant growth opportunities for the sector. This RGF-funded programme is a good example of how we can work together to sharpen our competitive advantages and grasp this unique opportunity to create jobs. It builds on earlier support provided by government for the Nuclear AMRC – a centre of manufacturing excellence.
"Our decommissioning, operation and maintenance and new build programmes can provide the platform from which to showcase the industry's qualities and capabilities to the rest of the world. 65 reactor units are currently under construction around the world, and current proposals indicate a total of 317 new reactors coming on line by 2030. The global decommissioning market is estimated to be worth £250 billion over the same period."
To be considered for the second round, completed applications must be received by 20 October.
Interested companies can also find out more about CNSIG on two free teleconferences, to be held by the Nuclear AMRC and Rolls-Royce at 10am and 4pm on 24 September – please see CNSIG programme details for dial-in information.