The Nuclear AMRC is playing a key role in the Bloodhound SSC project to create a 1000mph car and enthuse a new generation about engineering.
The centre's machining team is producing seven parts of the rear sub-frame that will hold the rocket into the car, with some parts measuring over a metre in length and width.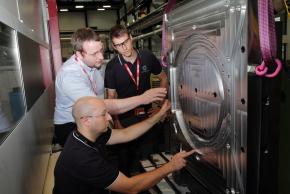 "These are high tolerance parts that we're machining from aerospace-grade aluminium," says Jay Shaw, deputy machining group manager at the Nuclear AMRC (pictured left with colleagues Mathew Challinor and Matt Reaney, and the part-finished rear bulkhead).
"It's going to be holding 27,000 pounds of thrust, so our knowledge and capabilities for large parts which will operate under the toughest conditions will be critical."
Some of the frame components will be machined on the centre's Starrag HEC1600, and others on the centres' new Hermle C60 U MT. Delivered in October, the C60 is an extremely versatile five-axis mill-turn centre capable of working on parts up to 1.2m diameter by 90cm high and 1.4t weight.
"It's a good test for the Hermle – we'll test the accuracy and our knowledge of the machine," says Shaw. "It's ideal because the Hermle is a full five-axis machine so we can do intricate three-dimensional features quite easily."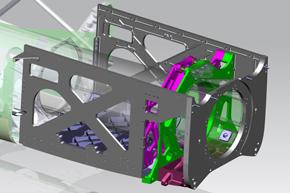 The collaboration began early in the summer, when Shaw met with Bloodhound engineers to advise on tolerance and features for the parts. "All these parts we're machining have been designed for manufacture through the Nuclear AMRC," he notes.
The work also involves several of the Nuclear AMRC's members. Sandvik Coromant is supporting on tooling, while Hexagon Metrology will inspect the final parts to ensure they meet specifications.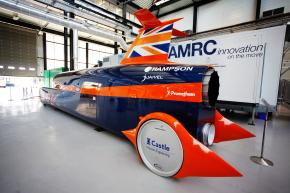 The Nuclear AMRC's sister centre, the AMRC with Boeing, has also carried out a range of work for Bloodhound. AMRC engineers produced gearbox parts for the Cosworth F1 engine which Bloodhound will use as a fuel pump, and calibrated the thrust ring for the rocket which successfully test fired in early October.
For more information about the project, see BloodhoundSSC.com